Hello Ladies and Gentlemen, boyz and girls.
It is time to uncover any secrets and dispel all doubts about the best hero in twrpg - all you wanted to know but were afraid to ask. He can heal allies, he can annihilate enemies, he can buff allies, he can debuff enemies, he can summon creatures, he can stun enemies, he even can do that
noone else can do
- is that a hax? Nah, this is just Elric, the Alchemist.
A youngster traveling through the Easts.
Specializes in alchemy, which does't use mana
but rather reconstruction of elements to bring out
phenomenos similar to magic. Currently staying by Silver..
Don't misunderstand Hero description - Elric actually uses mana to cast spells.
Easy explanation of main hero idea - it's a analogue of Invoker from DoTA - same element spell system (but 4 instead of 3), by combining which you create different spells. You use spells in right order to get the highest efficiency.
Alchemist model and story comes from...
Show
Edward Elric, also known as Ed or the Fullmetal Alchemist (Hagane no Renkinjutsushi), is the titular protagonist of the Fullmetal Alchemist series.
After losing his right arm and left leg due to a failed Human Transmutation attempt, Ed became the youngest State Alchemist in history by achieving his certification at age twelve. Three years later, Ed has become fully engrossed in his search for the legendary Philosopher's Stone, an item with which he hopes to restore his younger brother Alphonse Elric - whose whole body had been lost in the aftermath of the human transmutation.
If you still did not watch FMA in 2018 - you should try it for sure.
Alchemist probably one of the hardest hero to play. Please think twice before pick this hero - there are a lot of other classes with less difficulty and more effectiveness
Many combos and ping/fps drop danger makes him quite hard to handle. It takes time to learn how to play as alch and unlock his full potential.
It will be quite hard for Alchemist play with more than 30+ ping, please notice that fact.
If you read this just because you recently start to play TWRPG and picked alch bcuz "Oh i have seen FMAB and liked it, I should try Elric heh" - please THINK TWICE before do it. I saw many guys who just came to TW and started as Alch. After they have revealed his diffulty they in stop play TW at all, because "omg are all charcters there same intricate?"
What is actual Alchemist's role in party? There is one word how to exactly describe his position - Jack of all trades. With a bunch of spells and special artifacts he can replace almost any role in group:
1) With offensive build (it will be our main one) - he can be strong damage dealer;
2) With defensive build he can be decent support - 2 aoe heal spells + buffs + debuff enemies;
3) It's not a real build but with some end game gear you could try to tank some minor bosses (Alch also has Golem summon for this)
But everything has a price...
Everything has a price and even almighty has his own Pros and Cons:
+
Our main advantage - as described above we can replace almost all role in party: we buff allies and making elixirs before raid, we support them with healing and giving magic resist, we attack enemies if party already has decent healer.
+
Combinating ult and quick fingers with end-game gear allow us be to one of the hardest dps in late game;
+
Unique Hero ability to brew
Elixirs
- consumable item which gives high temporary bonus to any hero;
+
Special buff -
Burning hand
- with it you are welcome in any party, especially in phys dps group (MA, Berserk, Sniper, SM etc.);
+
Opportunity to afk farm teeth and exp via our summon Mojo. You can place it in Yetti spot at start of the game and making other stuff at that time;
-
Jack of all trades - master of none. Even we can do almost everything -
with the same conditions
we do it worse than
pure classes
- we heals less Priests, we damage less than Martial Artist etc.
-
Main disadvantage - you should click more, click fast, your Internet and ping should be stable, your FPS shouldn't drop. Wrong click, fps drop, ping spike - and you combo may fail, you won't heal yourself or ally, some death and fail run/raid. GG
-
Alchemist doesn't have any special high damage burst spells (except Ult) - if Fire Mage can do high damage output in short period of time - Alchemist need time (and some meat shield if possible) to perform combo and inflict damage;
-
Imagine an Hero Ultimate spell which instead of damaging your enemies...
attacks and trying to kill YOU!
-
Some spells chains and Alchemist speciality items are not so are effective and usefull as they could be and being not used in 99% of game time;
-
Same as any other mage class - we do almost 0 damage if enemy has AniMagicShield / Avatar state - ally who can break ams would be really appreciated
Alchemist is one of the easiest hero to farm exp via creeping, because he of summon and autoattack buff. Elric is full INT based hero, put all stats into INT (command -int #)

Should this even be explained? Just take quests for bonus exp, use almost any spells - creeps dying with any single hit. After getting lvl 80 you are able to summon Mojo. Use Flamer QE spell on him - passive immolation helps you to kill creeps faster, just place him in some mobs spawn area.


You have your ulti now, with it you can solo Field bosses like Walrus, King Crab etc., to get your lvls faster. Bosses summoned via Powders also grants a lot of exp. Deep Sea area is nice place to semi-afk exp.

Summon Mojo with immolation, take 1000 kill quest and stand in Kobold area. Alt+Tab and watch a Movie, take care of your 3D print, play with cat - whatever you want.
Semi-afk (re-summon Mojo each 5 min) exping by this way takes about 1h=2 lvl. - quest removed
Our spells is a key to everything.
Its only up to you which spell or chain spells use at any situation. We have much more spells than any class - choose wisely!
Keep in mind - ALL transmutaions (spells) have a casting time - you can cancel it by pressing ESC button. After pressing any spell tree, e.g. Q (Fire spells)- for some second you can use any spell from it. After you choose and cast spell (e.g. Blaze - QQ) it goes to cooldown before you can use it again. By pressing D or T you can cast without cast time / spells won't go on cooldown.

Our first and MAIN skill. Make sure to use D before cast anything - spell will be casted without ANY casting time
(instant cast)
and will not go on cooldown. More
PURE ATTACK SPEED
(each 25% AS) give you one more instant cast (
ic
).
1 ic
- Burning hand buff. (25% as)
2 ic
- Burning hand buff + Pumpkin rod/Staff of Contagion (50% as)
3 ic
- Burning hand buff + Staff of Domination / Staff of Plague + Ring of the Reaper / Cold Ring of Death (75% as) <---- max AS we can get for .
4 ic
- Burning hand buff + Staff of Domination/ Staff of Contagion / Staff of Plague / Pumpkin rod / The Ender +
Forbidden Magic
buff from
Grimoire of Darkness
(100% as)
Passive part give us 20% INT when we cast ALL transmutations fast, e.g. WR+EQ, WR+QE, QW+ER etc. Its a good idea to use it before releasing ulti.
Skill damage buff will not be shown!
Mini stun + low aoe damage. Deals more damage with charges from Burning hand (Max 3 charges, gives you buff when its ready). Just autoattack creeps under EQ buff to get charges.
Aoe damage spell.
Usefull only with chain ER+QW.
- combo removed
Low DoT spell, usefull only for applying immolation to golem. Can be chained QE+QW (but still very low dps).
Our main damage source for bosses in MID-END game. Make sure to use it for stunned targets only (Water Mages, Swordsmans are our best friends with stun locks
)
Even if we cast QW damage spell we still get Water affinity and gain HP/MP regen. Does not display on status as buff.
Part of our Late-game combo.
It can damage enemies but we use only for heal allies. Can be chained with WW+RW.
Throw icicle at enemy and freeze him for 1.5 seconds. Nice spell to control boss.
Spell totally reworked
So before last update that was our perfect AoE movement slow spell. Its low damage and low low debuff duration now, pretty useless.
Can be chained with WE+RE (explode ice crystal to deal more damage).
Oh its our main AoE HEAL. Use it all time while charging ULT. AoE range is pretty low - tell allies who needs heal to come closer!
VERY USEFULL chain with WR+EW.
Does not provide movement speed anymore, bug in description.
Very powefull buff at any game stage. You should keep that buff on yourself for 100% of time to get
+1 instant cast
after using D.
Every phys dps in team will be happy with Burning hand buff, because it gives +attack damage +chance to proc magic damage. Buff it while charging ulti to add more damage!
Each time magic damage from buff procs (only when buff on you) it gives you more damage for QQ spell (max 3 times).
- You get chance to get charge via casting spells now.
Not so great alone, but works greatly with chain WR+EW.
When you use any Wind affected spell (QE, WE, EQ, EE, ER, RE) lightning attack period is increased for few hits.
Does not work on any boss, use it to push some creeps (like FN mini spawns).
Great AoE damage spell with few mini stuns. Use only with ER+QW chain!
Magic resist buff will not be shown as buff.
Our second (sometimes 1st) combo damage spell, micro-stuns target. Each Cannon you cast remains on spot for few seconds after shot, if you cast spell again, previous Cannon will shot again. More instant casts = more shots.
Use Cannon combo if you make minor bosses solo.
Our key feature.
Everyone like Elixirs! More INT you have = more chance to craft Stat, Focus, Spell Damage elixirs.
Again, before last version it was nice aoe slow+damage spell. But versus WE this one is much better - instant high damage+slow.
Our summon friend. More int we have = more HP and Armor Mojo can get. Use Flamer QE all time you summon him. Can allow you to afk farm teeth or aid in battle.
Gets boost with Earth staffs Benziena - last one (Earth Soul Benziena) makes Mojo decent tank with AoE heal aura.
Mojo
More int you have = more HP Mojo can get. Each time you cast QR, WR, ER, RQ, RW, RE Mojo gets 40 armor.
Earth Soul Benziena is also increasing those stats, allowing him get more max armor.
Its a nice idea to use this before inflict high damage burst. Also gives Mojo few seconds invul.
Chains with WE. More stacks of Armor Mojo have, more damage it will deal, up to 200%.
So this our Ultimate which greatly connects to all other spells we have.
Effect:
After pressing F we get 5 seconds of invulnerability.
Then we starts losing hp quickly and getting INT each second. We should use Healing Rain (WR) right after start Ulti. If we cast spell under ULT we get INT faster.
You cant keep ulti forever, you also dont need full time to get max int - cast more spell to get int faster.
80% INT cap (+20% when all elements active from D), more time spell lasts, more damage each second you get. You should use Rain WR all time you cast ult, to not die.
You can summon Mojo with more HP, buff Burning hand with more damage, craft Elixirs with %chance for better elixirs and use spells with higher damage in this state to get more bonuses.
By pressing F
again you will release ult and make x400 INT damage. If you die during charge - you still will make damage.
Try to use more damage spells with T to make better damage output.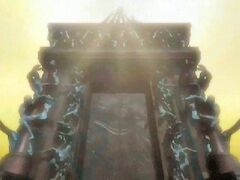 1. WR+EW
Our main chain which we use it 99% games.
Gives:
Aoe Heals + Damage each second + 20% magic resist + 5% spell damage. Only 2 spell with so much effects!
2. ER+QW (ER+ER+QW, ER+ER+ER+QW, depends on your pure AS)
Second the most useful chain. Huge aoe damage and few ministuns with low cd. Use ER twice if you have 50% AS bonus, thrice if 75%.
3. WE+RE+golem's E
After removing Icicle storm we allow to use this. Slow and some decent damage.
4. WQ+EE
Creating water globe and push it with EE. Low dps, slow preparation time - pointless in 99% games.
5. QE+QW
QW crits if target have debuff QE. Low dps, not quite useful, maybe only at ER+QE+QW/ER+QW+QE
combo removed

6. RW+WW
While we crafting elixirs we transform Water Stream into Golden Water Stream, increasing its healing power.
7. EQ+QQ
Each time you cast spell under EQ buff duration you have a chance to get "1 charge" - each charge increase damage for QQ. After you reach 3 charges - you will get buff and maximum damage for QQ spell.
Each proc of EQ gives bonus damage for QQ. Those pink color numbers mean we used "charged" Blaze.
8. QR+stun (like WE)
QR Meteor make much more damage if target stunned/frozen. Dark red numbers mean it did bonus damage for stunned target.
1. Cannon combo
Our main combo. Each summoned Cannon stay for a while after shot, if you spell again it shots again. More instant casts increasing damage output of this combo greatly.
D+RQ+RQ+RQ+T+RQ+RQ+RQ+RQ+RQ+D+RQ+RQ+RQ+RQ
2. Meteor combo
Our 2nd combo. Should be used only for stunned enemies (from our ult or allies stuns), because without stuns damage is quite low.
D+QR+QR+QR+T+QR+QR+QR+QR+QR+D+QR+QR+QR+QR
3. Water bomb combo
Firstly we speak about
standart build
. Its mainly directed to DPS, because with it we can do moooooore combos.
Stats what we are looking for in items:
-
Attack speed (AS)
Attack speed is main thing we are looking for because each 25% of PURE attack speed from items/spells (
bonus AS from AGI doesnt count!
) gives one more instant cast after using D, resp. 50% AS + 2 casts, 75% AS +3 casts.
Notes:
1) Only exactly 25% gives bonus, there is not much sense wearing items with 25% + 20% = 45%. To receive one more bonus charge we have to get missing 5% somewhere (but we can't
), so those 20% are wasted;
2) Items gives less 25% can work together to gain bonus, e.g. 15% +15% = 30% means 1 bonus cast and 5% wasted.
-
Intelligence (int)
Well, every mage needs it. More int gives us more bonus int while charging ulti = more effective spells.
-
Spell damage (sd)
Also stat, which almost every hero in TW needs. More sd in combination with charged bonus int provides high damage output.
Other stats like HP, MP, armor are also important for survivability in raids.
Ruler of The Lav Sea, Hydra
Show

First boss with powders. Trigger AMS with Mojo, then start charging ult. After reaching max int bonus, drop few meteors (depends how much bonus AS you have) and BOOM with ult. Nothing to explain, really.

Count of Wallachia - Vlad Tepes
Show

Just try to kill him with ulti before he use "Unleash True Form". With mid gear he dies with simple ult damage.


We need his Pumpkin Rod for early game. Hood and Bag is also nice to have. Just step away when he starts charging AoE.


Dragon has AMS and Avatar state - we dont really likes this. You can surive all his spells, by using WR+EW chain, then just dps.


We can survive Dark Star cast with WR+EW combo. After AMS will disapeear - use Cannons combo.

Divine Angel Guardians
Show

So to make it faster start charging ulti once you have entered in main hall. Gather all 3 angels and drop Meteor at single point and finish ult before they fall. Bonus damage for stunned units will make about 1/2 HP of all Angels.

For CA - trigger AMS with Mojo and start Cannons combo.


Summon Mojo which help you if you do this solo. Use WR (without wasting D for it) and spam ER+QW chain for AoE killing spiders. Use Cannons combo when Lich/Spider Quuen appears.


Clean waves with ER+QW chains. DL doesnt have AMS or invul state so we can just spam Cannons combo with ulti.


Our main target to hunt - we need his staff, his essence and maybe potion.

Spam WR+EW and autoattack him taking charges for QQ, release when get all 3 charges. If you have decent mid gear - just stand spaming WR+EW - it wont kill you and make more safe space for your allies. When Avenger appears - use Cannons combo on him. Charge ult after 2nd or 3d Avenger. Use ER+QW chain for Stalkers - they explode on death, be carefull and dont kill ally.
Use WW to heal ally if needed, use EE to if someone surrounded by Stalkers.


All fight is just quickly burst damage. Start charging ult before fight starts. Drop meteor and finish ult.


No matter is it Corner kill or Mid kill - basicly start charging after tank trigger FN's Kneels. Keep eye on Mark of Hatred and Meteor rain. Heal tank with WW if needed, use EE to push out healing minions of FN, if something gone wrong. Repeat if party goes Corner kill. Spawn Elixirs before fight starts.


We needs some items and mats from TL, like PW and PS.

Tank TL hits or assist tank by spaming WR+EW chain, use Frozen Robe in critical situations. You can use both WE+RE chain or just Cannon combo to assist kill Healing Turtle from sides. Assist kill spawned brown turtles. Charge ult at any time but dont release until you check all mini turtles are dead! Best time is charging before fight start to deal high burst damage at the beginning.


We need few PWoNs from Ent and some other mats too.

Start fight with Cannons combo or Meteors combo (if you have WM, SM etc who can stun lock for period of time), avoid his aoe lightnings and ground spells. After 50% Ent spawn 2 Elders, target 1 with Cannon combo, if you dont have someone who can break Reflect shield - cast combo only after it disappears, if he going to jump on you - press H and stay until circle become orange, then step away. If party already has enough dps focus on healing others with WW and WRm catch healing orbs using WR. Start ulti after 1 Elder down and release it on main Ancient ent.


The easiest late game boss.
You should craft elixirs and buff allies with EQ while waiting for the beginning of fight. Elixir of Restoration can dispel SK silence, its nice idea to keep one this fight.
Start ulti in 20 seconds before he will awake. You will get max int just battle starts. Fast drop Meteors and release ulti - carefully, damage can trigger his stomp, dont stay close. After ult use T and continue drop meteors if you have stunlockers in team, or else spam Cannons. Move to left or right wall when he casts Despair and use WR to heal allies while staying.

You should craft elixirs and buff allies with EQ while waiting for the beginning of fight. Elixir of Restoration is valuable here - it dispels ZL poison, share it with allies.
Start with D+QR+QR+QR. Slow him with WE or RE when he casts Craze. Dont stay close. Dispell poison with Elixir (however - cd on elixir is quite long, you will be able to use it only once at fight). Step away from Star. Start charging ulti at 2nd stage, release at 2nd or 3d stage.


If you team has good damage dealers who can finish Sam quick without mistakes you can also try stay at box. Attack blue angel and spam WR+EW all time, step away from runes. Use Sage Robe's AMS to dodge first red explode, use ulti's invulnerabilityto dodge 2nd, keep charging to survive 3d explode (you can also eat Protection elixir to make sure).

Either - go to main hall. Buff allies and craft elixirs. Move quickly at Wheel, start charging after 1st wheel, release after 2nd. Use WR+EW and try to catch some orbs to reduce his heal. Avoid runes.

Make sure to craft elixirs for everyone before fight. Best elixir here is Restoration
because with it you can dispel Silence. Keep everyone phys dps buffed with Burning hand (EQ).
Use Cannon or Meteor (if you have enough stuns in team) to main Dragon. After 50% hp, he summons minions, use Meteor or ER+QW combo on them. Keep casting WR all time its not on cd. Freeze for few second after killing minions, dont stay close to anyone or you both will die.
Start charging Ulti after minions died. Re-buff and heal everyone who needs, use Cannons/Meteor also. Be carefull, dont release Ulti when Dragon has green aura - otherwise you will restore him much hp. Move to corners when white chain hit you. Dispel silence with Elixir when needed. Step away from insta-kill aoe spell.
No info yet
No info also
Our unique spell - crafting elixirs.
All elixirs have high cooldown (4 min) to use and all buffs duration is short
. All elixirs have shared cooldown - if you used one type you should wait to use another. Here is all types:
Elixir of Restoration
- High chance of crafting
Effect: Heals 25% of Max HP + Clears all debuffs
Probably the best, most popular and most usefull elixir at any game stage. Can heal in critical situation, can dispel SK silience, ZL Infect etc.
Elixir of Protection
- High chance of crfating
Effect: Reduce damage taken by 25% for 60 seconds
Use at hard part of raid to survive or give squashy heroes
Elixir of Stat
- Medium chance of crafting
Effect: Increase main stat by 12% for 75 seconds
2nd most popular elixir, everyone like more stat to make tough damage.
Elixir of Focus
- Low chance of crafting
Effect: Increase crit chance by 5% and crit multiplier by x0.25 for 90 seconds
Only thing I know - LM likes that type.
Elixir of Spell Damage
(in game its a green color elixir without name in english version) -low chance of crafting
Effect: Increases skill damage by 7.5% for 120 seconds
Again most of heroes likes it and some prefer this one over stats.
My respect if you read all of these, I wasted much time writing it.
Thank you for reading!
All info based on S4v0.19E