The Water Mage


By Secharius
~Table of Contents~
Introduction
Pros/Cons
Stats
Skills and their Uses
Itemization
Game Play and Leveling
~Introduction~
The Water Mage is my main Hero atm on The World and so I thought I would make a quick guide to show others thinking of making this mage how awesome she is in helping the team kill bosses as well as having fairly decent Magic damage.
I do not profess to be an expert on the water mage but hopefully people can get a fair understanding of what she is all about.

~Pros & Cons~
Pros
Amazing stun in her ultimate as well as smaller stuns and slows with her other skills
Great AOE abilities which makes for fast leveling
With epic type items has quite large skill damage potential
Can solo quite a few of the early bosses, up to Mage Lord, with basic Epic items
Great fun to use as you learn to synergize her skills well
Can help tank up her allies with her frost shield

Cons
Very squishy without her shield
Mana seems to wither away very fast in longer boss fights without decent mana items (Mana Heart)
With no mana you can literally do squat
Heavily item dependant
~Stats~
Every stat you gain should go into intelligence. Your role is to not only stun things, but deal as much magic damage as you can. Don't attempt to tank up with strength early game as you will gain items that make you tanky enough for your role later on. Agility stats... don't even think about it.
~Skills and their uses~
Cooldown ~ 20sec
Frozen Armor is a great skill to make yourself invulnerable for selected periods of time. It is especially helpful if your going through the fairy forest in day time or when you have to take a few hits from a boss. During boss fights I would only use it selectively as it hacks into your mana pool quite a bit if you keep buffing people with it. Always keep an eye on the melee players that the boss is currently focusing and shield them if necessary. Note that this skill is much better when used on yourself, its a whole 50% worse when used on allies, but of course the benefit when used on melee heroes is that on the shields expiration, your target will be frozen for a small period of time, which adds a nice little stun to your teamfights.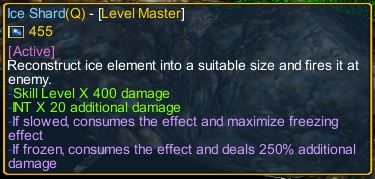 Cooldown ~ 8Sec
Ice shard is your slowest cool down skill and is essentially a one second stun on minions or bosses. This skill can interrupt a bosses skill. Use it as often as its up. This skill can also be very handy in activating a bosses AMS, giving you time to run away after they are frozen.
Cooldown ~ 10sec
Water blast is a nice small AOE skill, dealing 70% less damage to enemies around your target. Note that using tidal riding before this skill will increase the damage dealt, as that skill leaves water on the ground for your target to sit in.
Cooldown ~ 20sec
Tidal rising is a nice versatile skill to have. I often will use is straight after Q to get nice and close to the boss leaving you in a nice position to ulti, assuming its AMS is down. Tidal rising deals magic damage over the time the puddles lie on the ground. Try and slow your target with Glacier Orb in order to get that increased periodic damage. This skill is also helpful for escaping bosses skills like Lich's everfrost or dragons hell flame.
Cooldown ~ 30sec
Frost Nova has some nice AOE damage in a much wider area than water blast. This skill is perfect when leveling till 350 whether you're at Duchy or golems, just bunch together a group of creeps and let this go. Note again the increased damage this has when your target is already slowed by Glacier Orb.
Cooldown ~ 45sec
Glacier Orb is essentially as pinning wheel of ice which slows enemies while dealing damage. This skill is particularly helpful when clearing spider waves or demon creep waves. It is helpful to freeze enemies before using this skill as the damage is amplified.
It can also be helpful to plant an orb on a bosses spawn location and then summon in order to activate the AMS immediately.
Cooldown ~150sec
Ice Age is one of the best ultimates in the game. The freeze/stun duration on this is quite long and enables dps units to unleash on the bosses without dying. The best use of this skill in a boss fight is to first activate the bosses AMS with ice shard and then wait for the AMS to wear off. Then wave in with E and immediately ulti. This means that all your other skills will do their bonus damage as the target is frozen. It is important for your allies to unleash as much of their skill damage as possible in this time frame as well as when the stun expires, 15% of all the damage taken will be added to the target.

Skill Synergy
Knowing what skills to use first is important with the water mage as the bonus damage on some skills depend on the previous use of other skills.
In general I like to activate a bosses AMS with Q first up. When the AMS wears of I then Q once more and then Wave (E) just past where the boss is then immediately ulti (F).
It is then a process of placing your orb (T) own next to get the slow effect for the frost nova (R) to deal its extra damage.
From then on just use all other skills as they come off cd.
Remember to shield allies if they are in danger of taking excessive damage, not only is it a shield but also freezes the target on expiration.
~Itemization~
The water mage is equipped pretty much like all other mages. I will go through each type of equipment and point out, in descending order, some good items to be using and then finish off with an end game list to be aiming for.
Obviously the time from level 350 till the point at which you are fully geared is quite long so there will be items you will use for a long time before you can get that end game set.
Weapons

(370)
Staff of Souls
Drops from Skeleton King Despersia
24,500 Damage
2,550 Intellect
7500 Mana
+8% Skill Damage
Active: Dark Howl
(360)
Twin Snow
Ripple Snow(Spider Queen) + Dark Matter(Demon Lord) + Winter Rose(Spider Queen) + Ice Cobweb(Spider Queen) + Mana Orb(Turtle Lord)
18,000 Damage
2,100 Intellect
7500 HP
On skill cast, empower your next attack with frost effect
On use, activate Frozen Storm
(360)
Belius, the Archdevil's Staff
Klenetia, the True Holy Staff(Crafted) + Ancient Writings(Lich) + A Page of the Unholy Book(Corrupt Angel) + A Page of the Bible(Angels) + Dark Matter(Demon Lord) + Adamantium(Lich & Spider Queen)
17,000 Damage
2,150 Intellect
+4.5% Skill Damage
Active: Casts Darkness Explosion
[Scales with users stats]
(360)
Hatred
Drops from Flame Nightmare
25,500 Damage
2,000 Intellect
Passive: Improved mana regeneration (75 Mana per second)
Special Effect: Converts part of damage dealt as Intellect (Can be released upon use)
Twin Snow is currently one of the best end game items. Belius is almost not worth making anymore as it requires a lot of materials to craft it all the way up from Klenetia, and for that effort you may as well just aim straight for Twin Snow. On the face of it, Staff of Souls is the best end game weapon, but go for Twin Snow as it's hard to get SK runs let alone getting him to drop it. Hatred is another nice straight drop which has comparable stats to the others.
Hoods

(360)
Void Eye
Eye of the Abyss(Demon Lord) + Spirit of Nightmare(Flame Nightmare) + A Page of the Unholy Book(Corrupt Angel) + Dark Wings(Demon Lord)
440 Armour
777 Intellect
+5% Spell Resistance
Increases nearby allies' skill damage by 4%
Active: Summons 6 hell minions on use
(360)
Prophetia, the Source of Mana
Hood of Mage + Ice Cobweb + Dark Matter + A Page of the Unholy Book + Mithril + 40 Greater Magic Stones

420 Armor
670 Intellect
+7.5% Skill Damage
Active: Temporarily increase Intellect by 750 on use

(360)
Crown of Fervor
Drops from Flame Nightmare
400 Armour
410 All stats
+12% Movement Speed
+6% Skill Damage
+9% Flame Damage
Passive: Converts 2% of Max Health into Intellect
I would be aiming for Void eye as your end game item. The team buff is invaluable and the summons are fantastic. This may change in .13 as it looks like Prophetia may have a sequel. Crown of fervor is also an option, nice straight drop to get form FN.
Armour
(360)
Frozen Robe
Robe of Everfrost + Mana Heart Frost + Ice Cobweb + Frorist + Mithril
580 Armor
840 Intellect
+5% Skill Damage and Magic Resistance
Active: Allows icy wraith to possess your character
Absorbs up to (1.2 X max mana + 5 X Intellect) damage (75 second CD)
(Mage (Water) Special Effect) If used together with Frozen Armor, damages and slows nearby enemies with chilling effects

(370)
Robe of Reaper
Drops from Skeleton King Despersia
430 Armor
920 Intellect
+8% Skill Damage
(360)
Garment of Fairy
Fairy Robe(Mana Ancient) + Spirit Orb(Spirit Beast)
480 Armor
1020 Intellect
7000 HP
Summons a Fairy Spirit on use
Arcane Mage Specialty: Improved Moonlight Link
Frozen Robe is a must have for Water mage as its special effect is just for you! Up until you can make this either get the Fairy Robe which you will need to make your Fairy Wings.
Robe of Reaper is a nice hood as well if you manage to get it from SK.
Rings
(360)
Latea, the Ring of Chaos
Essence of Anger(Flame Nightmare) + Demonis the Devil Lord's Ring(Crafted) + Essence of Corruption(Rectus)
1125 All Stats
160 Movement Speed
+11% Skill Damage
Passive: Decreases nearby enemies' armor
Passive: Chance to activate Absolute Protection on being hit

(360)
Azatos, the Pipe of Chaos
Living Dragon Heart(Crafted) + Corrupt Crystal Fragment(Golem) + Essence of Corruption(Rectus) + Tentacle Horn(Tentacle Lord)
1150 Intellect
8500 HP
Increase nearby allies' attack speed and movement speed
Increase nearby allies' damage and health regeneration
(360)
Living Dragon Heart
Lifestone + Dragon Heart + Dark Matter + Fragment of Angel's Feather + 30 Greater Magic Stones
1,050 Intellect
12,500 Health
Passive: Increase nearby allies' movement speed and Health regeneration (150 HP/sec)
Active: Inflicts Intellect X 30 damage to enemies in 600 radius, and summons a dragon
(6 minute CD)
Latea is currently the best choice for an end game item, for soloing anyway. Azatos is a great team item and should definitely get preference over Latea in team fights if no one else has it. Get both in your invent. Not listed is the Lifestone. This can be great getting an early one of these from Mana as it gives you a free resurrect if you screw up in a boss fight (Especially Rectus)
Wings
(360)
Frost Fairy Wings
Fairy Wings(Crafted) + Robe of Everfrost(Lich) + Frozen Heart(Crafted) + Orb of Oblivion(Skeleton King) + Purified Water of Nature(Ancient Ent)
950 Intellect
5000 HP
12500 Mana
+11% Skill Damage
+125 Movement Speed
Active: On use creates portal between Prius and your current location
Water Mage Specialty : Improved freezing effect
(360)
Fairy Wings
Dragon Wings(Crafted) + Fairy Robe(Mana Ancient) + Ice Cobweb(Spider Queen) + 10 Magical Branches (From Ents in the Fairy Forest)
715 Intellect
4,000 Health
7,500 Mana
+8% Skill Damage
125 Movement Speed
Active: On use creates portal between Prius and current location
Frost Fairy Wings are the obvious choice for your 5th slot. It has everything you need, extra HP, mana and the nice skill damage increase. Can easily make Dragon Wings early game, you just need to do Dragon runs.
Keep in mind the teleport is not just great for getting home from angels and spider but is also a great escape when your low on HP or even mana in a boss fight.
Final End game build I'm aiming for
Belius, the Archdevil's Staff/Twin Snow
Void Eye
Frozen Robe
Latea, the Ring of Chaos & Azatos, the Pipe of Chaos
Frost Fairy Wings

~Game Play and Leveling~
The water mage is a great leveler and you can get to 350 in relative ease.
Here is a breakdown of the areas you should be hitting and at what levels.
Level 1 Area - Wolves
Level 10 Area - Kobalts
Level 30 Area - Trolls
Level 80 Area - Murlocs
Level 120 Area - Polar Bears
Level 160 Area - Duchy creeps
Level 280 Area - Golems
It is incredibly important to pick up all the bags dropped at these leveling areas and hand them in for xp. I've sen too many people just pure grinding with no thought to these hand in quests. It really takes a lot of time off in the end. Bags can be picked up for xp in all these areas except for the level 160 Duchy area.
At level 80 you may pick up your first kill quests to carry on you while killing murlocs. These can be obtained from the priest just north of the prius tele. The same goes for all other areas from 120 and up. Make sure you fill your invent up with these scrolls before heading out.
Another very important leveling tip is to head to Uncle Van's Farm at level 40 and pick up a bunch of 3 xp apples. These will boost your XP gain by 15% for 10 Minutes each.
NB: Don't try and stack apples or pick up other types of fruit as will die instantly. Just use all 3 as you go and then pick up a new batch when you've used all 3. Also once you hit level 300 you may not pick and more from the farm, but you may still use any that you have left in your invent.
The water mage's skills are very good for leveling. I tended to form a run and scroll through using W, E and when you can group together a nice bunch of creeps, smack them with your R.
The reason I avoided leveling at the Volcanic lands at 200 is its hard to gather a nice mob of creeps there in order to maximise your skills, whereas at Duchy there is a nice run using the top 4 mobs in which you can constantly move through the creeps which ended up being more efficient for leveling.
Saving Powders

Once you hit 350 you will be looking to join boss killing groups. In order to do this you must have powders with which to summon them. The time spent waiting at yeti for teeth can be greatly reduced by people carrying as many powders on them as they have slots free.
So if you have 5 slots out of the 10 in your pack free, make sure you save one of each powder to make loads nice and efficient. Even if you have just one slot free, save that holy there, it can make the difference between just doing angels and doing spider as well.
For a reference on how to make powders have a look at Knnisai's awesome powder guide found here
Powder Guide
Your Role
The water mage brings a few positive things to a boss fight. Your main role is your stuns. Timing your ultimate is key, never ulti a boss with his AMS up and try not to do it when R and T are on cooldown too. Stuns interrupt a bosses skills also. So if lich is about to everfrost and you have not yet used your ulti you can put it off for the 10 seconds or so that the stun lasts.
Once you start getting some nice items your Dps will noticeably increase too. Remember that the bonus damage on your skills relies on other skills having being used. Using skills the right way around is a must do. Your ultimate should always be used first in a team fight as your allies will use all of there skills on a boss in this time. The 15% extra damage taken can them be the most useful.
Conclusion
The Water Mage is a very fun character to play and requires a certain amount of attention in boss fights which I love.
Thanks to the creators of the map and all those who are awesome to play with on the West!