Rough translation abilities.
I apologize in advance for my English, enjoyed the translator.

[Active]
Every attack causes 3 X INT magical damage.
Every sixth attack causes six times more damage and restores health and mana.
Approximately 10% of Mana and 7% of total health.

[Active]
Creates the specified scope cross from dark energy.
Uses 30% of the current mana.
Damages in the amount of 300% of the consumed mana.
Damages in the amount of 25 X int.
The goal in the center of the cross will receive more damage according to the formula:
(100 + 2.5 x Skill damage)% as well as get the effect of the crucifixion 2.5 sec.

[Active]
Creates a specified point swirling energy.
Which periodically fires in nearby enemies energy clots.
Uses 30% of the current mana.
Clots harm amounting to 600% of the mana used.
The maximum you can create 3 twists.
When you re-create the vorticity at a point where it already is, you move it to this point.

[Active]
Around you starts spinning Scythe, causing damage to enemies in a small distance from you.
Uses 30% of the current mana.
The total damage is equal to 600% of consumption on the ability of Mana.
Absorbs damage 70% self and 35% allies.
Accumulates absorbed damage.
At the end of the duration of damage absorbed is released causing 400% damage.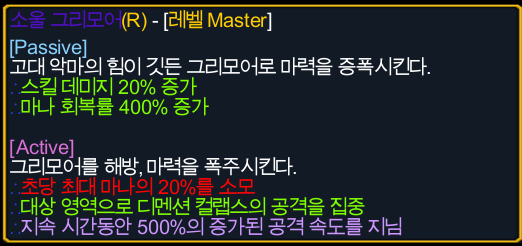 [Passive]
Increases skill damage 20%.
Increases the mana regeneration rate of 400%.
[Active]
Consumes 20% of maximum mana per second.
Focused attacks from turbulences at the specified point.
While maintaining the ability to attack speed increases by 500% turbulences

[Active]
Consumes 500 Mana per second.
Increases maximum health by 100%
Modifies some of the skills.
Every second increases the mana consumption and Skill damage.
For 5 seconds your Mana consumption increases by 50%, and Skill damage at 2%

[Active]
Calls the Apocalypse.
Deals 200 x int damage per second.
Associates by enemies within range.
Operates 3 seconds.